Encompassing multiple forms of deprivation on the living environment, health and economic condition, how can we mobilise available social resources from across various sectors to effectively and sustainably improve the living environment and help the SDU children and their families by large?
"One from Hundred Thousand" Social Innovation Symposium
Through the symposium of season 9 "Children's Well-being in Sub-divided Units", JCDISI hopes to contribute its knowledge and ability to support trans-sectoral collaboration in improving the quality of life of the residents living in SDU. It is hoped that by providing a platform for social innovation and knowledge transfer, the cross-sectoral partnerships, social resources and organisational capacity could be leveraged to explore potential strategies and directions in improving the well-being of children in SDUs.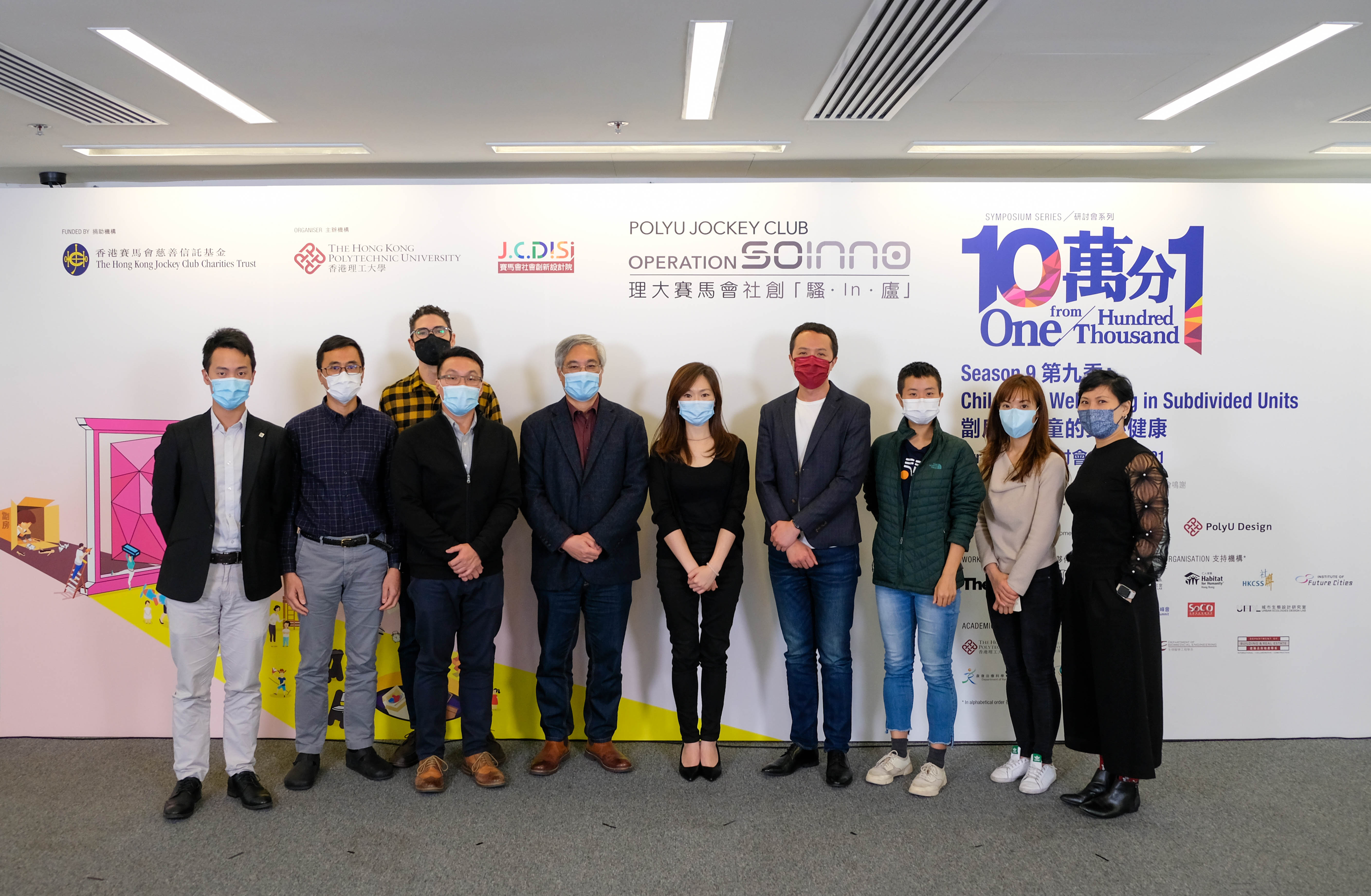 Keynote Speakers
Panel Discussion: How could society leverage available community resources in benefitting the well-being of children and the SDU community?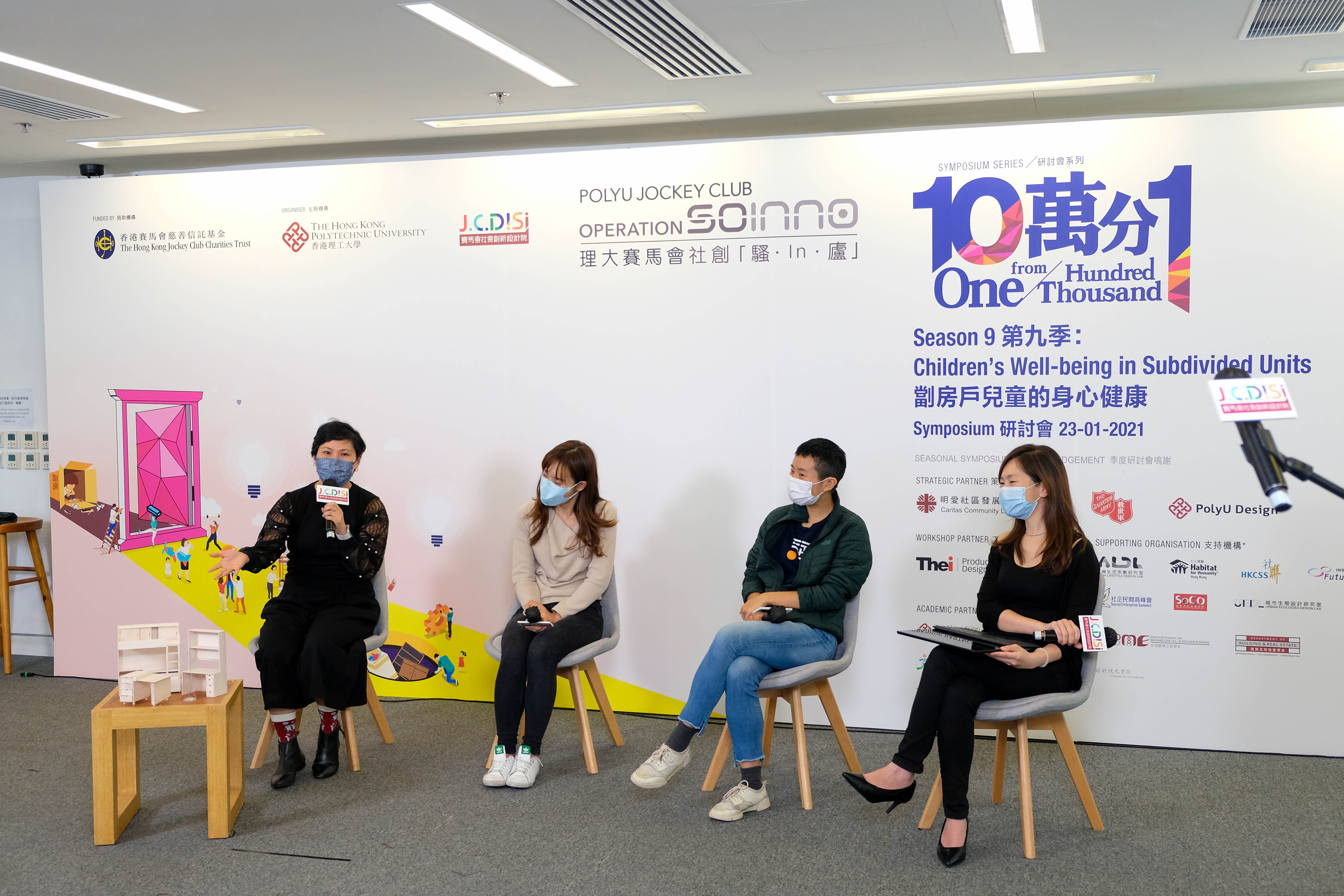 Panel Discussion Guests

Coming Soon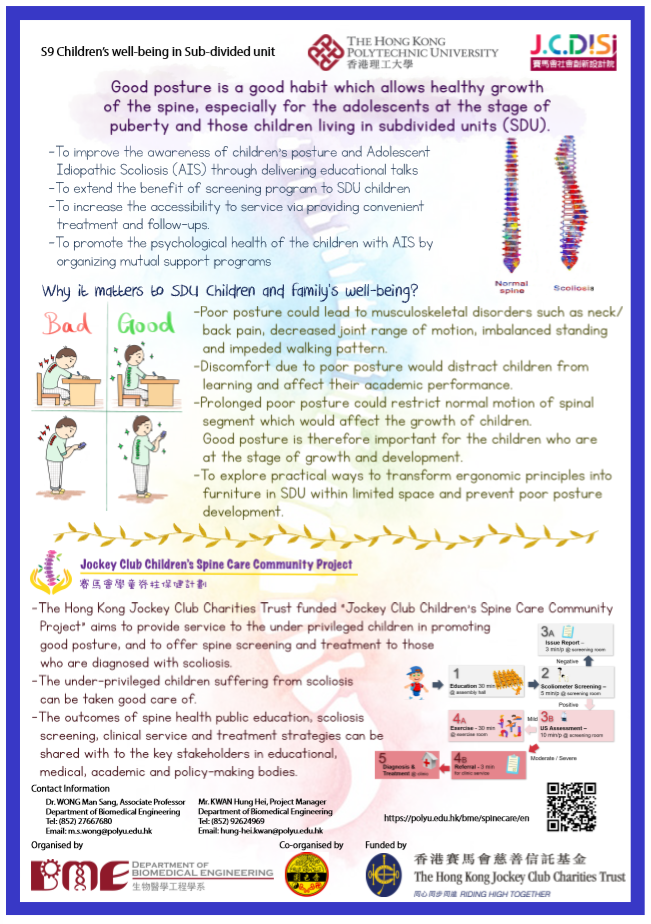 Joint Thematic Sharing from PolyU Academic Partners
Click to Read
Co-creation Workshop
Date: 23-01-2021 (Sat)
Time:10:00-13:00
With the objective to improve the well-being of children living in SDU, JCDISI invited social workers, built environment professionals, healthcare professionals and people with spatial design knowledge to join Season 9 "Children's Well-being in Subdivided Units" to co-create non-invasive home modification solutions (hardware) and corresponding strategies (software) in a two-day co-creation workshop.
| | |
| --- | --- |
| | |
| | |
| | |
| | |
COVID has prevented our co-creation teams from visiting SDUs for our empathy mapping process. Using SDU simulation room and 3D models as tools to help our participants understand the frustration of tenant's daily living in SDU, the teams were able to put themselves in the tenants' shoes to address the most critical pain points of the tenants as raised by social workers, which includes:
Air quality
Privacy and private space
Nutrition
Laundry and drying
Studying and play area
SDU simulation room
| | |
| --- | --- |
| Privacy & Private Space (Before) | (After) |
| | |
| Laundry & Drying (Before) | (After) |
| | |
| Nutrition (Before) | (After) |
| | |
| Studying & Play Area (Before) | (After) |
| | |
| Air Quality (Before) | (After) |
| | |
The sharing from Department of Rehabilitation Sciences, School of Design, School of Nursing and School of Optometry at PolyU has equipped our co-creation team with a deeper understanding of children's needs and help them develop home modification strategies and software to improve the well-being of SDU tenants from different perspectives. The knowledge transfer would help co-creation team and social workers identify "quick wins" to improve the living environment and well-being of tenants. It also helps explore how social resources could be mobilise to benefit the well-being of children, families and the living environment of SDU.
* in alphabetical order according to organisation's full name