Many cleaners in Hong Kong are grass-root elderly people, who are often deprived of wages and benefits and work in adverse working conditions. As a result, cleaning work is deemed disgraceful occupation. While there are labour organisations constantly fight for the rights and benefits for cleaners, but to create a truly friendly, respectful and humane working environment for cleaners, we need to establish a new vision, starting from changing the cleaning industry and existing systems with a long term perspective, and targeting a goal to change the ecology of the entire waste treatment industry, so as to establish a more vital, estimable and professional image for cleaners.
We tried to taka a multi-purpose building at the junction of Hung Yuen Road and Hung Ping Road under planning as a case study on the idea of integrating both the refuse-collection and recycling functions. In collaboration with a team of professional architects from "Occurrence Design & Research", the community green group "Waste-No-Mall" and concern group for cleaners' rights "Hong Kong Women Worker's Association", we work out a proposal of spatial planning design and operation model for this multi-purpose building upholding the principles of "user-centred" and "humanistic approach" and in-cooperated stakeholders' opinions.
The design proposal is founded on three objectives.
To show respect and care to cleaners by creating humanistic and cleaner-friendly working environment;
To enhance the eco-consciousness in the community and advocate the value and practice waste reduction at source by suggesting the design and operations of the community recycling centre and its auxiliary services
To encourage the neighbourhood residents to proactively use the new facilities and to enhance the image of waste management industry by working out a aesthetical architectural and spatial design which is in line with green living concepts.
Design Foci
Establish design guidelines concerning cleaners' needs, including setting up Staff Social Zone, Worker Bay for cleaners' daily needs.
Establish design guidelines concerning recycling and upcycling facilities, including the Lobby, the Multi-purpose Communal Space and Recycling Factory.
Integrate refuse collection and recycling facilities into a hub of waste management, emphasizing the connectivity of different areas in order to create synergy, resulting in higher efficiency of the whole system.
Apply the design proposal to the multi-purpose waste management building based on the accessible planning data in Hung Shui Kiu.
Views of different stakeholders
Interior Design Rendering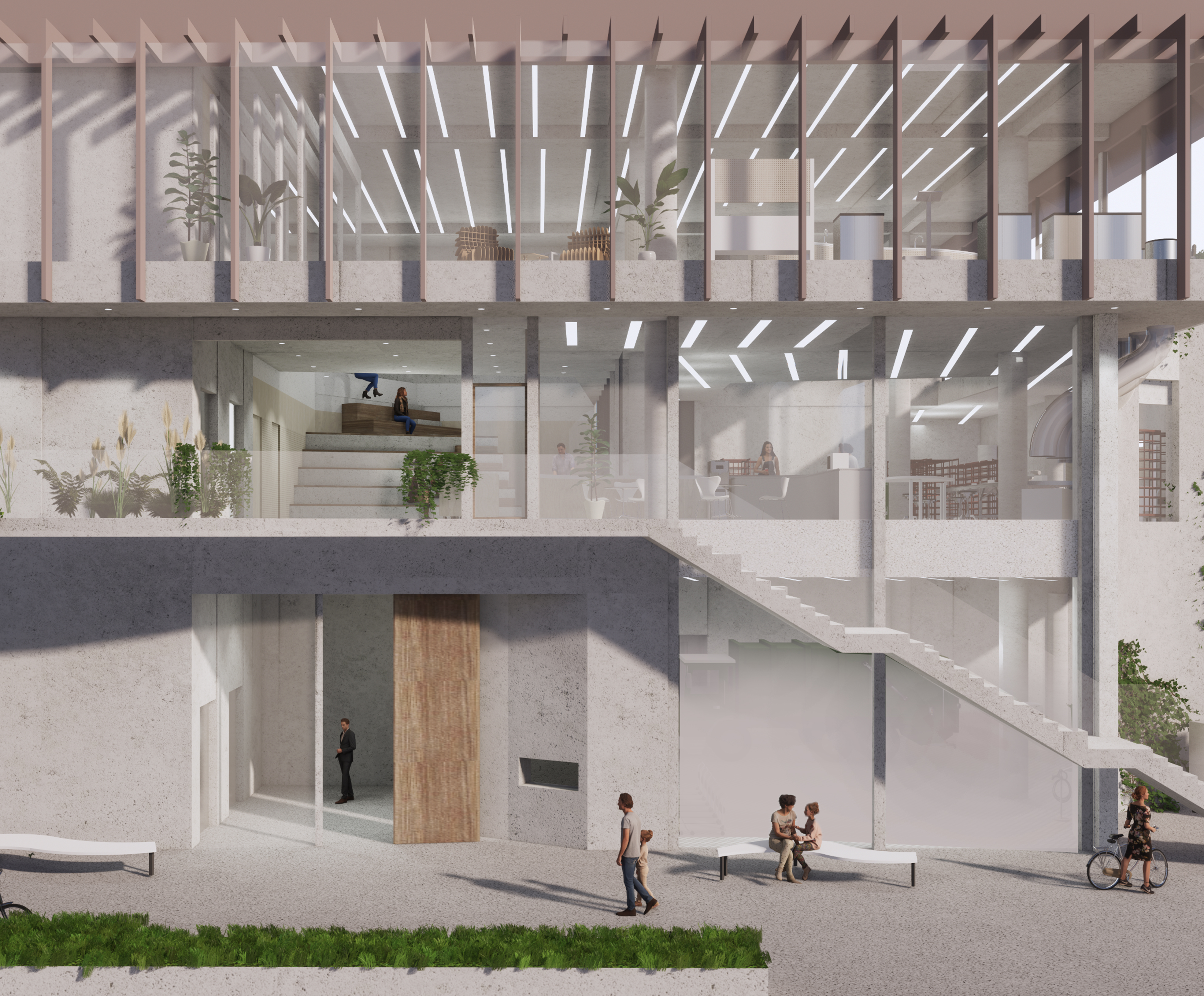 The combination of bare concrete façade, natural wood planes, maximized transparency with a touch of earthy pink increases the lightness of the mass and reduces its infrastructural appearance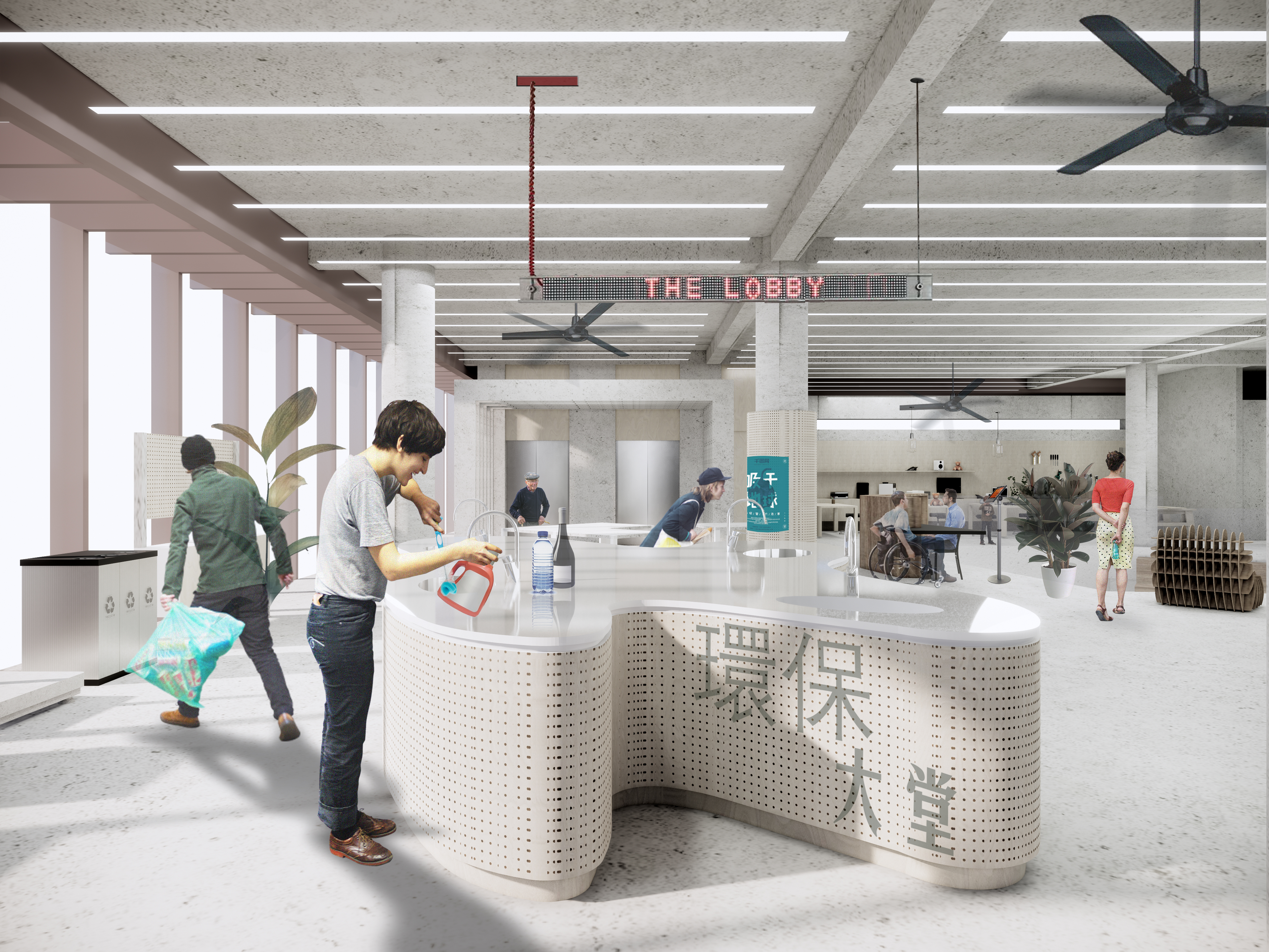 2/F The Lobby
Public users can do preliminary sorting and cleaning of their recyclables.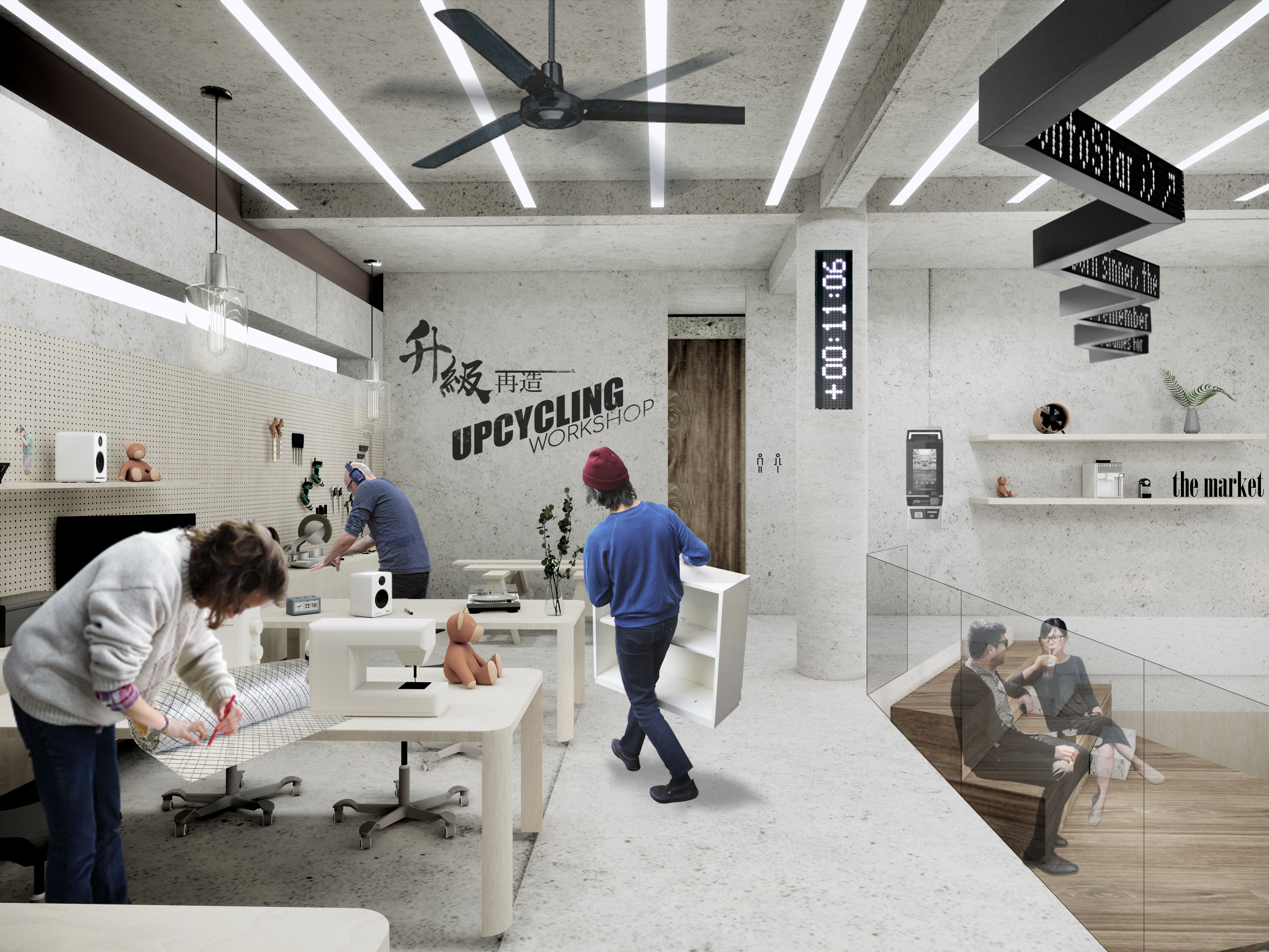 2/F Upcycling Workshop
Allowing the public and environmental organisations for conducting community activities such as hand-crafting workshops and repair courses.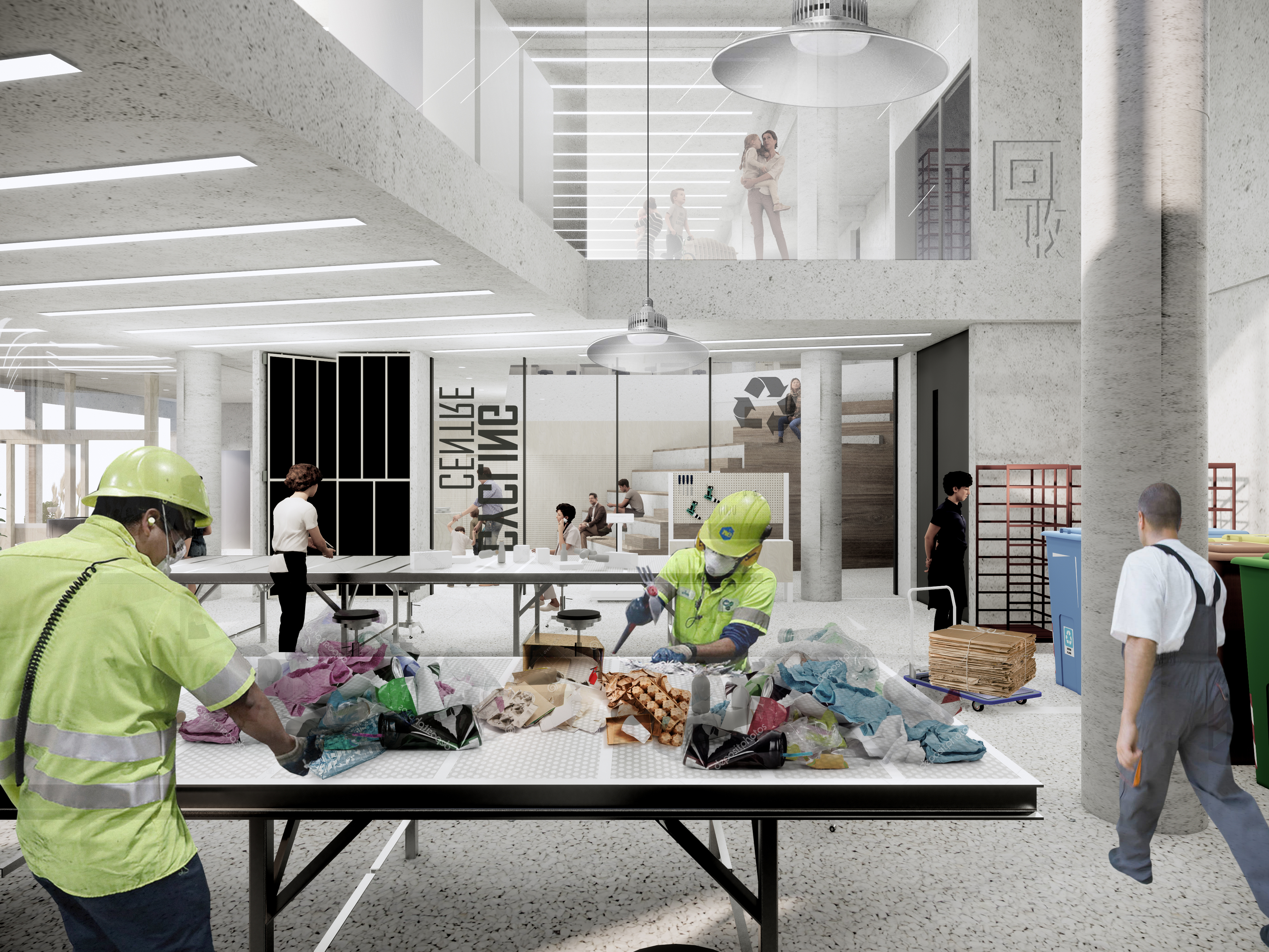 1/F Recycling Centre
The pre-sorted recyclables will be sent to this place for workers to do secondary sorting, cleaning and packing up.
Use glass wall to separate the space, enhance the visual transparency and allow the public to have better understanding on the recycling operation and logistics.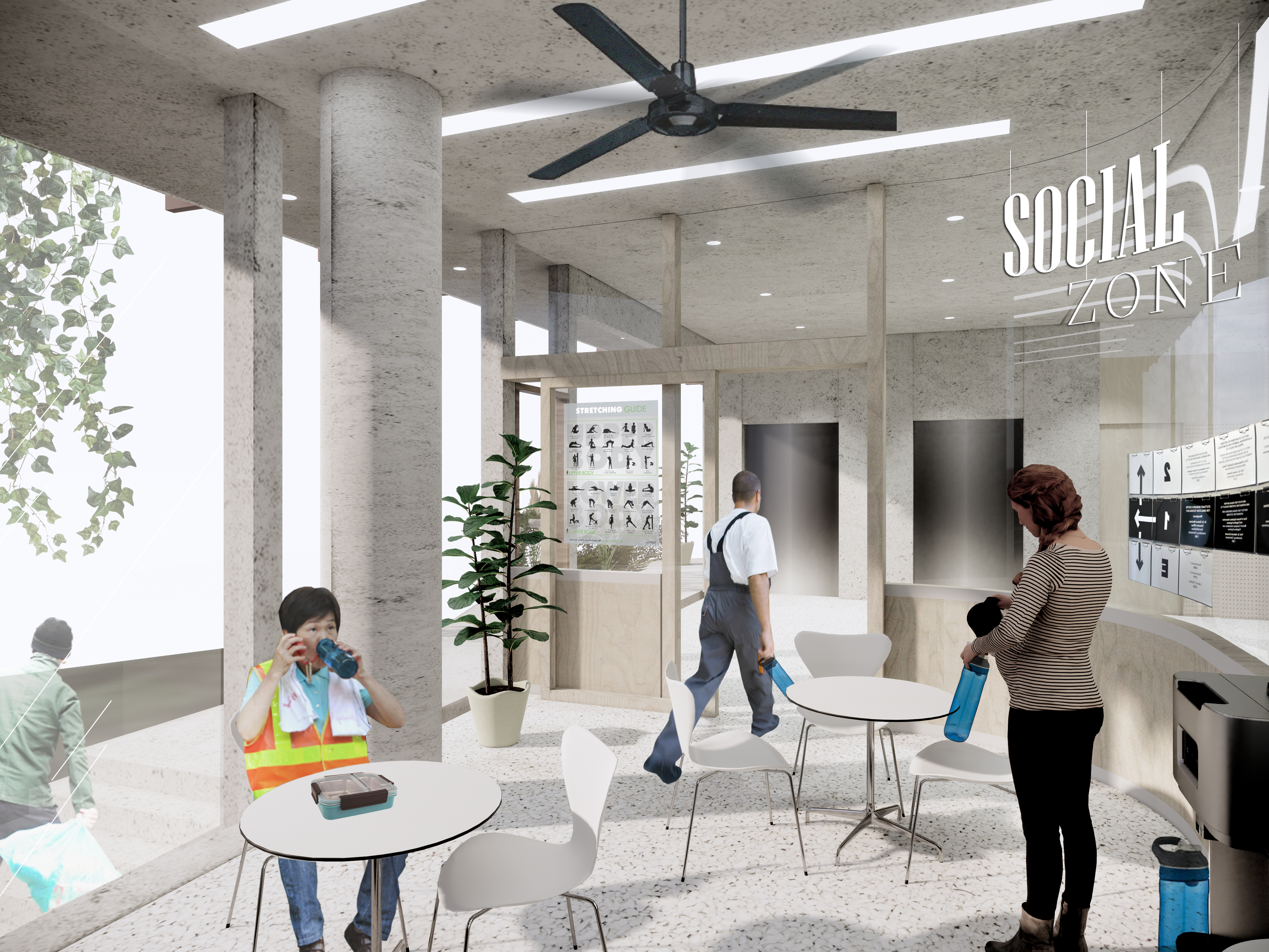 1/F Staff Social Zone
A well-lit, well-equipped and clean resting space for the staff.
Provide clean facilities such as drinking water dispenser, microwave oven, steamer, refrigerator
JCDISI sincerely thanks all public participants and collaborators in our co-creation workshops, symposium and public consultation.