Author: Po Yin Choy
Editor/ Translator: Centre for Translation Studies, Department of Chinese and Bilingual Studies, The Hong Kong Polytechnic University

"Learning: It's more than scoring." This slogan has been on everyone's lips, but examinations are still the main focus of the Hong Kong education system. Exams have tremendous implications for students' future development. Under this backdrop, it seems like the exam-focused culture overshadows everything, including ideas such as learning with enjoyment and all-round development.
The question is – Can the current education system in Hong Kong educate people who can tackle the challenges from the future?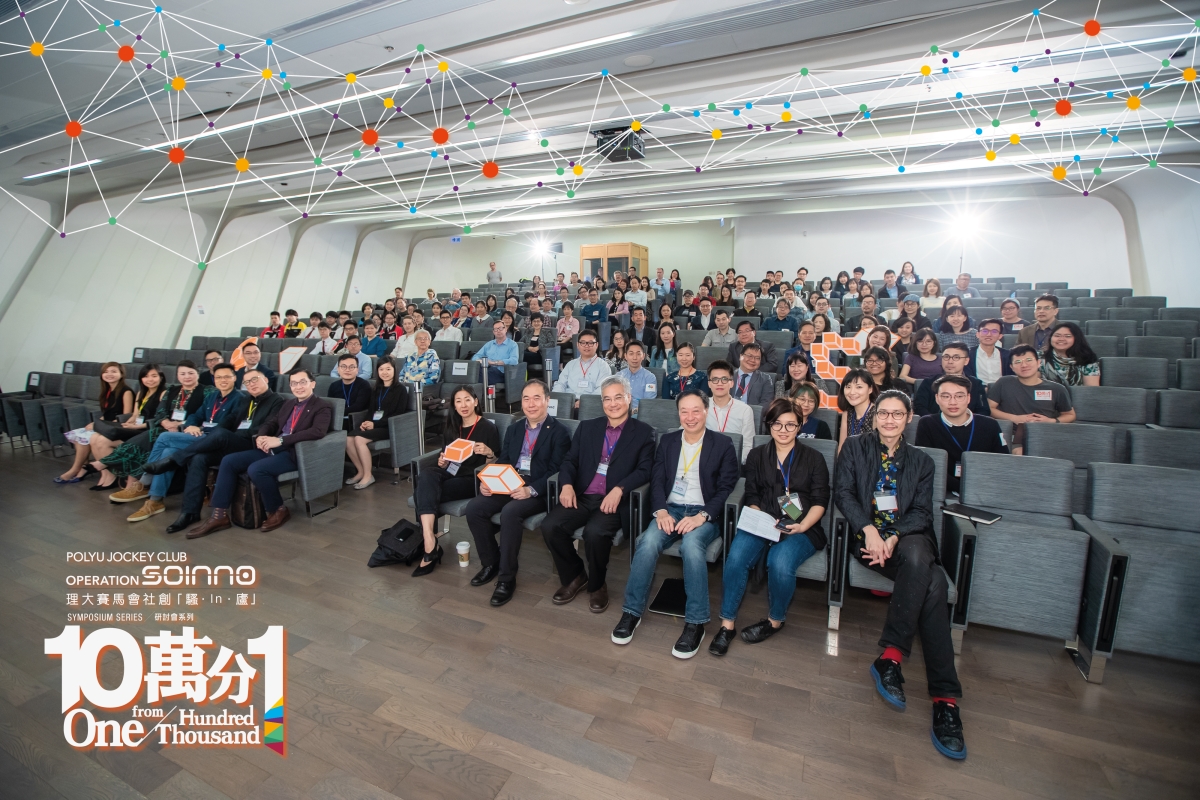 Survival Skills for the Future: Versatility, Collaboration, and Problem-solving
The world in the 21st century is changing every minute. New technology and knowledge are continually swarming, creating a volatile and unpredictable future. In the report published by the World Economic Forum in 2016 that titled, "New Vision for Education: Fostering Social and Emotional Learning Through Technology", a list of "21st-Century Skills" is printed with 16 items on it, which includes critical-thinking/problem-solving, literacy, scientific literacy, numeracy, ICT literacy, creativity, communication, collaboration and so on.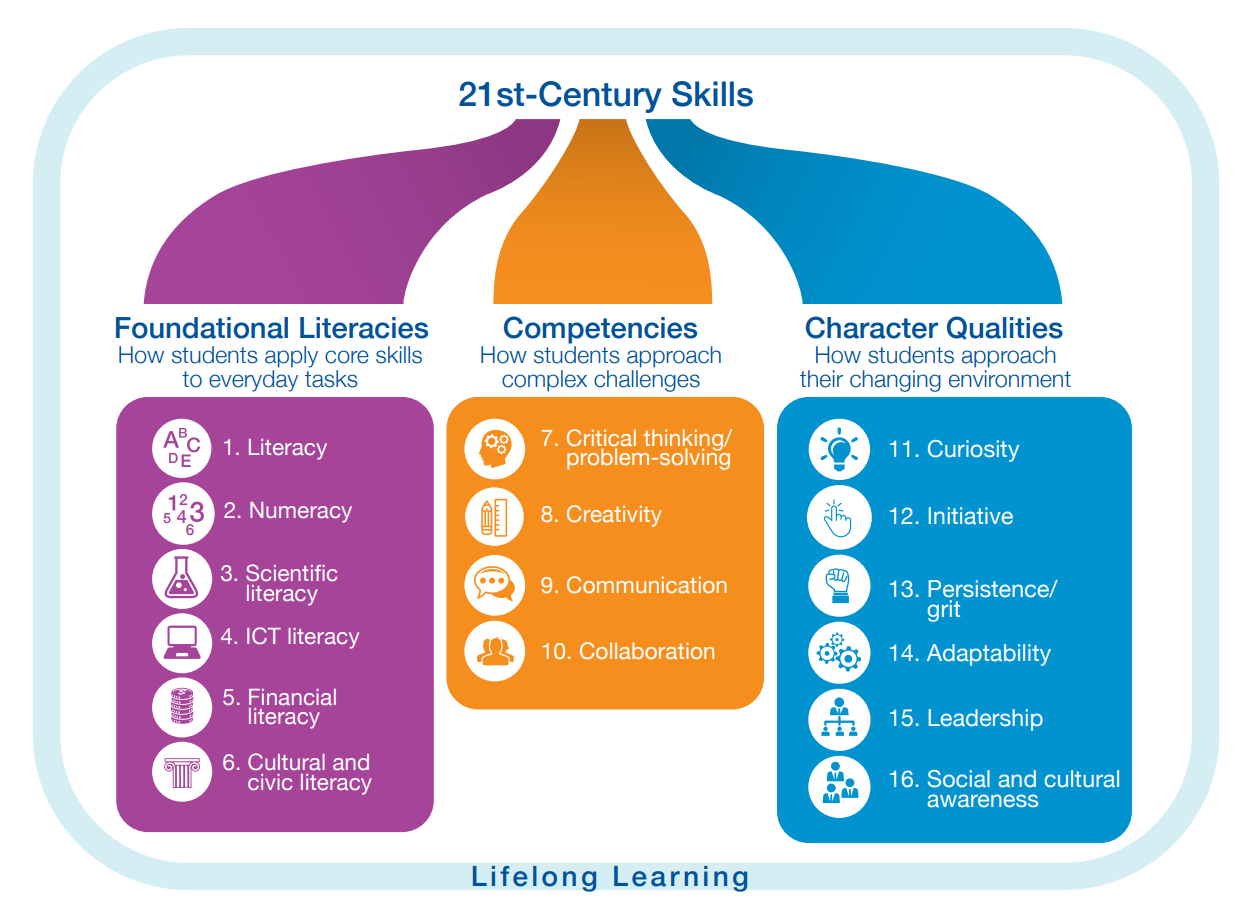 Photo credit: World Economic Forum Report. "New Vision for Education: Fostering Social and Emotional Learning through Technology". 2016
The primary and secondary education in Hong Kong has already covered fundamental skills such as literacy and numeracy. However, skills related to one's competencies and character qualities, such as creativity, problem-solving, and leadership, have garnered much less attention, let alone a comprehensive and systematic curriculum and application.

SOINNO Design Education – Bringing Design Thinking into Secondary Schools
"The most important skill to have in the 21st century is adaptability." Said Albert Tsang, project associate of Jockey Club Design Institute for Social Innovation (JCDISI). "Because technological advancement is rapid, especially in terms of artificial intelligence. What we learnt ten years ago is no longer applicable in the near future."
In July 2018, JCDISI launched a programme called SOINNO Design Education. Also, a symposium titled "One from Hundred Thousand – Education for a Complex Future" was held on 13 April. Advocates and actors of Design Thinking from Hong Kong and overseas were invited to share their experiences and explore the possibility to infuse innovative and design thinking into the current secondary school curriculum.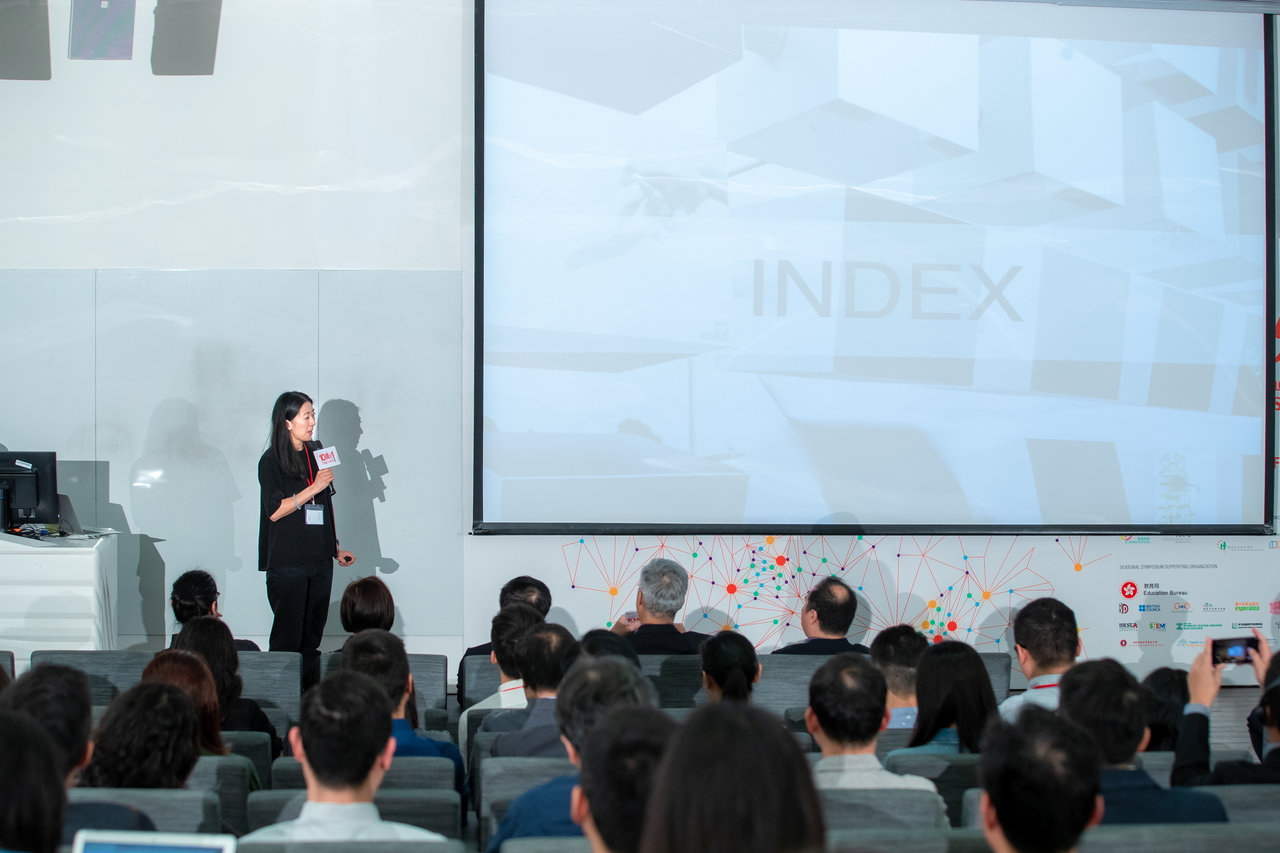 Ms Liza Chong, CEO of INDEX: Design to Improve Life®, was one of the keynote speakers. She has founded the design to improve life project and launch the INDEX Award to encourage innovative designs that can solve community problems. She believes that if connected, everyone is capable of bringing about changes with their ideas, because "solution is driven by people".
Hong Kong Lacks Learner Autonomy – Overseas Examples of Project-based Learning (PBL)
Before we search for possible solutions, we should first review the current situation of Hong Kong education. Exam-oriented ideology only creates an elitist system that benefits only those with more resources.
Dr Hui Po-Keung, adjunct associate professor of the Department of Cultural Studies at Lingnan University, once wrote a piece to critique Hong Kong education[1]. The article suggests that one of the reasons education fails is that the primary and secondary schools morph the curious children into the "students" who respond to the world with only sarcasm. In the end, students lose their autonomy, passion, and motivation to learn about the unknown.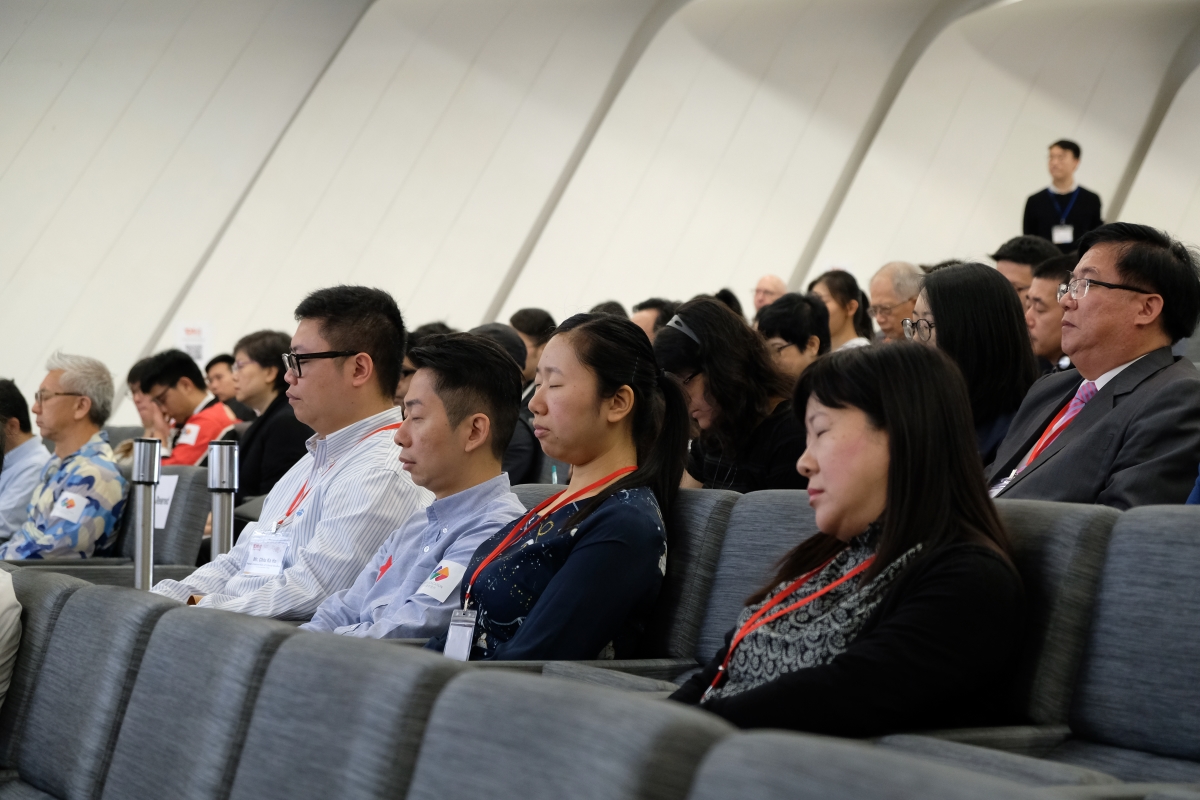 Dr Edmund Lee, Executive Director of Hong Kong Design Centre first invited the audience to close their eyes and imagine the future world. "Will we be living in a smart city in 5 to 10 years? Will it be a people-oriented city? Do we have adequate knowledge and wisdom to tackle future challenges?" When we are facing the unknown, we must reflect upon the real purpose of education.
Many countries around the world are in the process of education reform by combining interdisciplinary project-based learning (PBL) with the application of knowledge and theory. The goal is to encourage students to learn autonomously.
In 2014, the Finnish National Agency of Education announced a curriculum reform that requires all subjects must nurture students' interdisciplinary and horizontal integration skills. All schools must come up with at least one multidisciplinary learning project each year. Teachers of all disciplines will work together to design a theme-based course which allows students to unearth topics they are passionate about in real life. Some of the examples of topics include climate change, global trade and economy, natural or human-made disasters.
The Taiwan government announced the "General Guidelines of Curriculum Guidelines of 12-Year Basic Education" in 2014, declaring that "Essential Literacies" would be the main principle of its education system. "Essential Literacies" include Spontaneity, Communication and Interaction, and Social Participation. Taipei Municipal Fanghe Experimental Junior High School has transformed into the first public experimental secondary school in Taipei. It positions itself as the expeditionary learning school with project-based learning as its educational framework to strive for interdisciplinary collaboration and a sense of continuity of all subjects.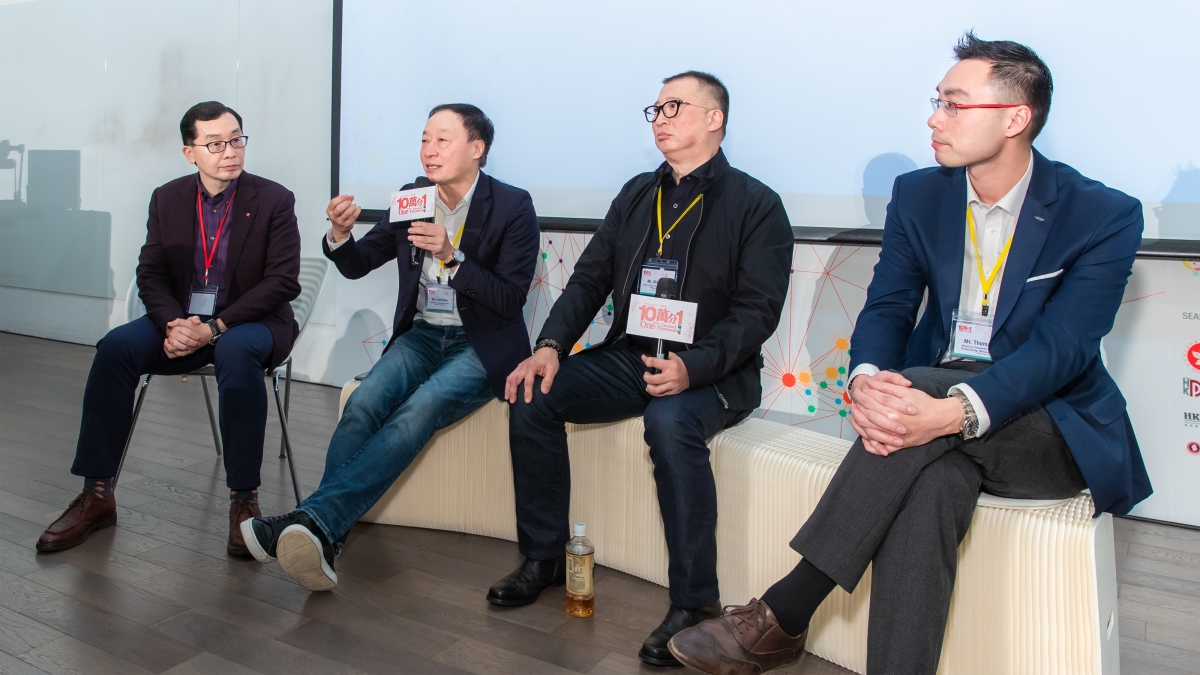 (Left to right) Dr Edmund Lee, Executive Director of Hong Kong Design Centre; Mr Fred Sheu, National Technology Officer of Microsoft Hong Kong Limited; Mr. Ahim Kho, Head of Business Development, Amazon Web Services Hong Kong, Taiwan and Macau; Mr. Thomas Ho, Head of Channel & Alliance, Hong Kong, Macau & Taiwan, Alibaba Cloud

PBL in regular education – the Building of Students' Confidence and Autonomy
Education reform is happening all over the world with PBL as its core. SOINNO Design Education also advocates for progressive reform of Hong Kong's education system, which can be started with the regular secondary school curriculum. The new element can be led by instructors with a professional design background to help students conduct field trips and design project in groups or individual studies to inspire them to think and apply interdisciplinarily.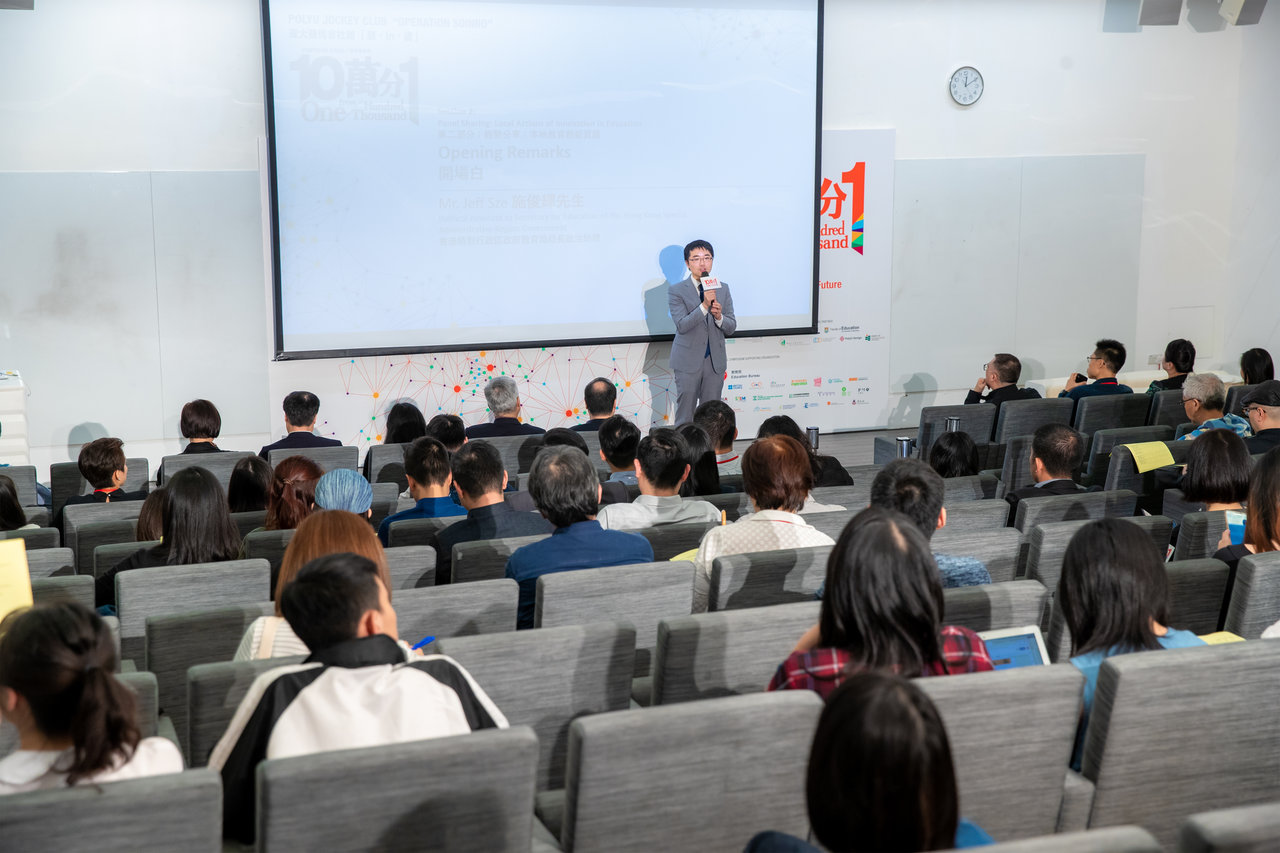 Mr Jeff Sze, Political Assistant to the Secretary for Education, participated in the symposium with other speakers, teachers, and principals who advocate for innovative education. He shared his view on possible approaches to learning in Hong Kong.
SOINNO launched a pilot scheme of PBL with Design Thinking in secondary schools last year. Ms Chu Pui Lui, principal of St. Antonius Girls' College, said, "My students are academically competitive but quite timid at trying out new things because they are afraid of making mistakes. However, after they participated in the project-based learning about organ donation, they have become more confident and proactive. This learning experience is quite different from traditional classroom learning, allowing students to acquire much more than knowledge."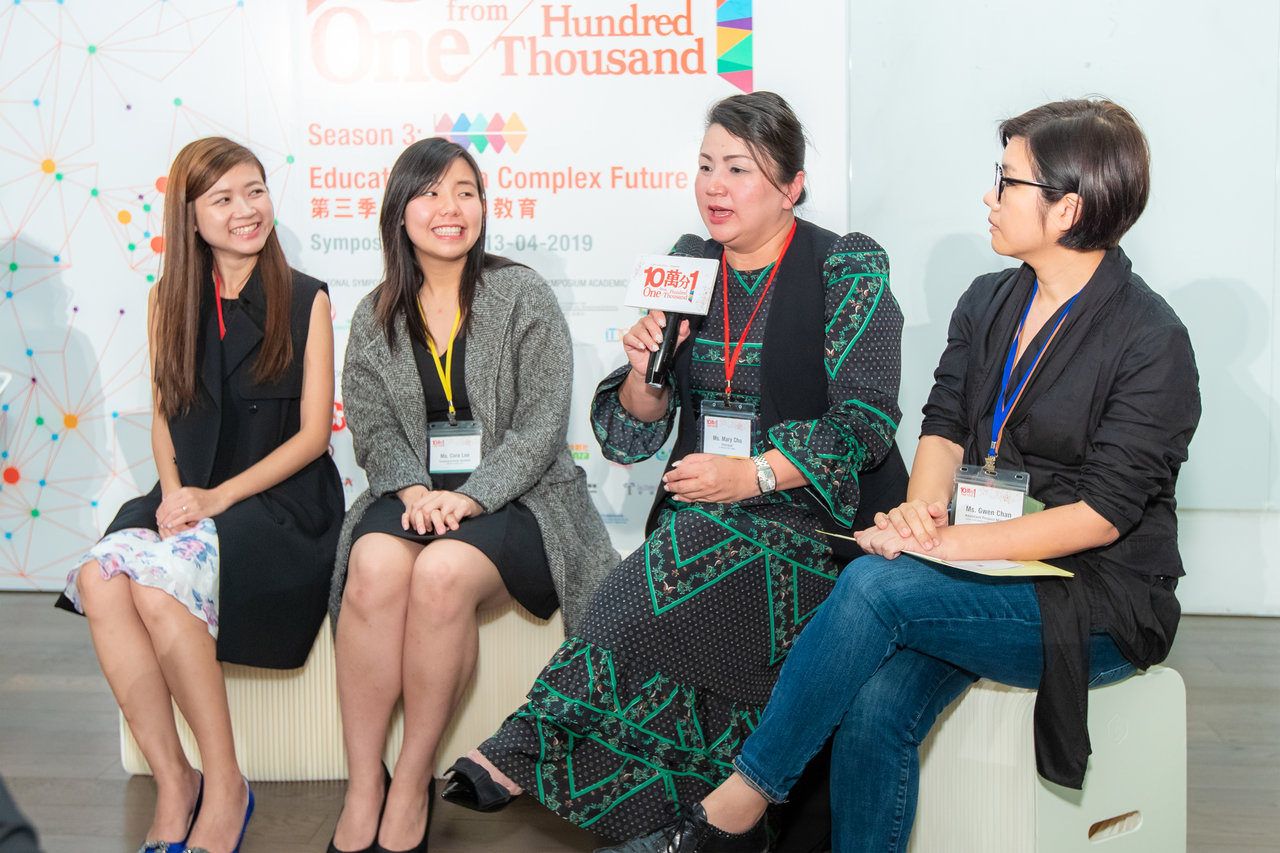 (Left to right) Ms. Grace Chang, Assistant Lecturer, Faculty of Education, HKU; Ms Cora Lee, Year 3 student, Faculty of Education, HKU; Ms Mary Chu, Principal of St. Antonius Girl's College; Ms. Gwen Chan, Programme Leader, SoInno Design Education
Grasp the Chance to Change – Prepare Students to Tackle Future Challenges

Dr Henry Ma, Associate Dean of School of Design, was also a keynote speaker at the symposium. He mentioned that many knowledge would soon become obsolete at a much faster pace in the future. Therefore, we cannot rely solely on the knowledge and experiences of the past. We also need to have the ability to come up with new ideas, new designs, and new solutions.
"Past experiences and knowledge is a prison that boxes us in, stripes us of creativity. The 'Design Thinking' we propose is not only a learning process but an individual attitude and behaviour which forces us to get out of our comfort zone to continue exploring and discovering new possibilities." Dr Ma commented.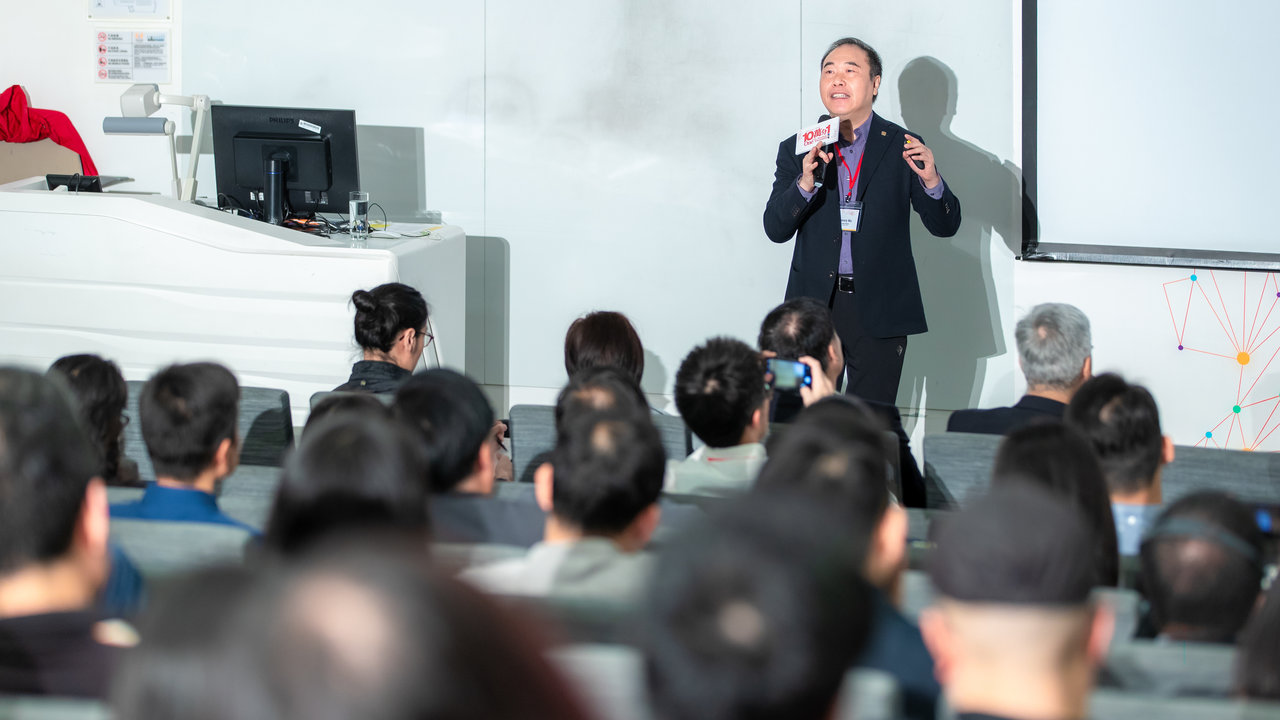 Dr. Henry Ma, Associate Dean, School of Design, The Hong Kong Polytechnic University
Ms Ada Wong, JP is the founder of Ednovators, Hong Kong Institute of Contemporary Culture, HKICC Lee Shau Kee School of Creativity, and Make A Difference. She shared, "The goal of the current education system is to push students into universities, but not everyone has the ability nor wish to do so. For those students, the six years in secondary schools are of little use. On the other hand, education based on 'Design Thinking' is people- and student-oriented. Students can receive training for design thinking, which enhances their confidence so they will continuously create. Future challenges are not a problem for them."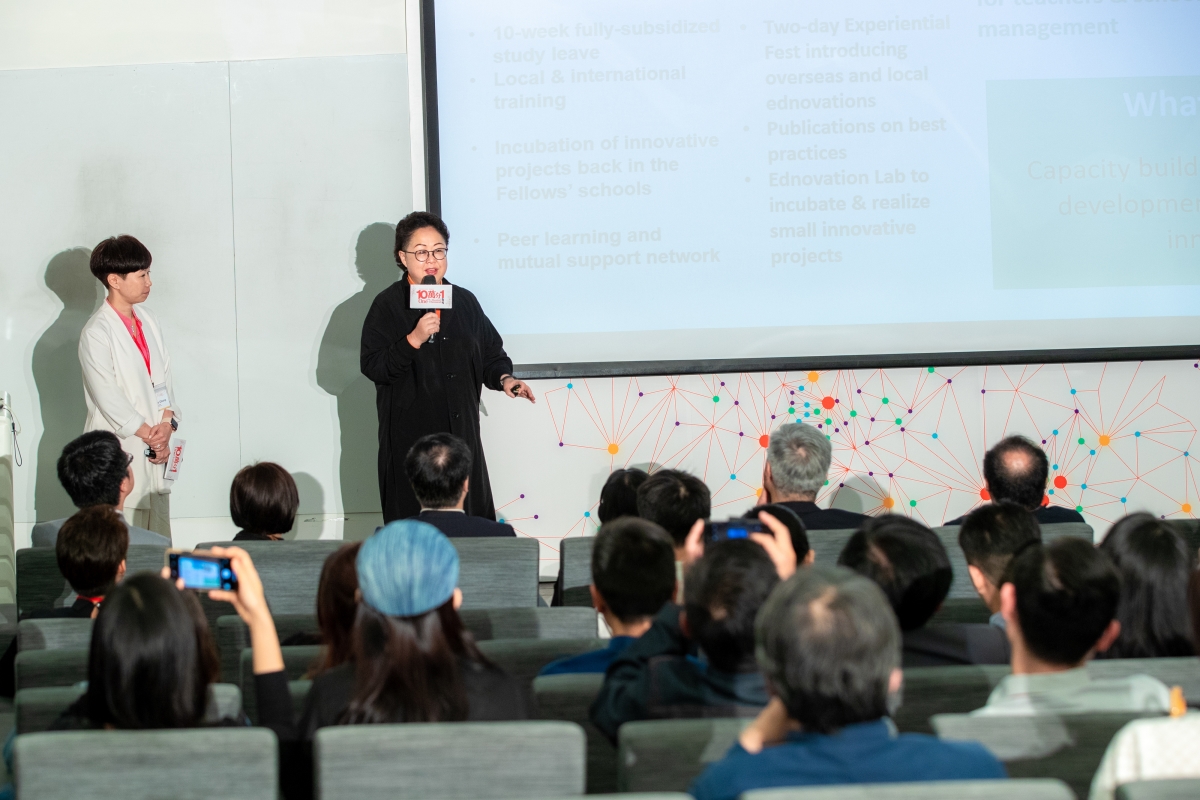 Ms. Ada Wong Ying-kay JP
Another guest speaker, Mr Ahim Kho, is the Head of Business Development, HK and Taiwan of Amazon Web Services. He proposed that industrial transformation in technology could be a reference for education reform, "An innovative company is not necessarily a technology company, but one that learns every day. Innovation needs to happen outside of classrooms; education should also transform alongside technological development."
We are unable to predict the future, but we can obtain the ability to tackle future challenges confidently.
Michael Polanyi, the British-Hungarian polymath, pointed out that knowledge is internal. One can only learn and construct knowledge by doing. To swim, you must first jump in the water; to cook, you must first pick up a knife and pan and start cooking.
The wheel of time is turning faster and faster. Every minute, every second witness changes in our world. We must not solely depend upon knowledge to advance ourselves in society. How much do you think our education system in Hong Kong is lagging behind?
[1] Comments on the Scandal of Imitating Nazis in Taiwan from the Perspective of the Failing Hong Kong Education System (從香港教育失效教訓,側看台灣學生扮納粹風波),