Background & Objectives
Organised by JCDISI and funded by The Hong Kong Jockey Club Charities Trust, this is an Action Project originated from the "Intergenerational Play Space" symposium conducted in 2019 under PolyU Jockey Club "Operation SoInno". It will be developed through evidence-based, cross-sector participatory design processes, conceptualising a user-centric intergenerational play space design that combines technology and sports. The aim is to reimagine Kowloon Park Fitness Trail and encourage public enjoyment from users of all ages, promote intergenerational play and enhance user well-being. With Leisure and Cultural Services Department and Architectural Services Department as Strategic Partners to provide technical advice, it is hoped that this collaboration would provide a reference design for the site's future development, encourage cross-sector, cross-discipline knowledge creation and knowledge transfer, and support the scale-up of intergenerational play space schemes in Hong Kong.
The Action Project aims to produce an innovative implementable design scheme with an objective to:
Provide an overall park environ that would increase elderly users' confidence and incentivise them to take more outdoor physical exercise;
Provide creative, safe and easy to maintain intergenerational play equipment and/ or feature that would enable intergenerational play and interactions. The equipment and/ or feature should be with aesthetic design and in harmony with the surrounding site context;
Reinforce the positive behaviour of the elderly users by showing them evidence of the benefits to their wellbeing that they have been achieved by their utilisation of the intergenerational play space; and
Produce a prototype that would facilitate the transformation and creation of more intergeneration play spaces in Hong Kong.
The Fitness Trail is 500 metres long and located at the North-western part of Kowloon Park, 22 Austin Road.
Winding trail with gradient changes, surrounded by green foliage. However, the topography makes it difficult for people with mobility issues to access.
Designed to promote physical activity. 8 fitness stations, with purposefully designed equipment typically found in local parks, were installed along the trail. Facilities are well-used but open to upgrades.
The site is in close proximity to intergenerational user groups from the Children's Play Area, Sports Centre and Swimming Pool of Kowloon Park, which is more heavily used and iconic facilities of the park.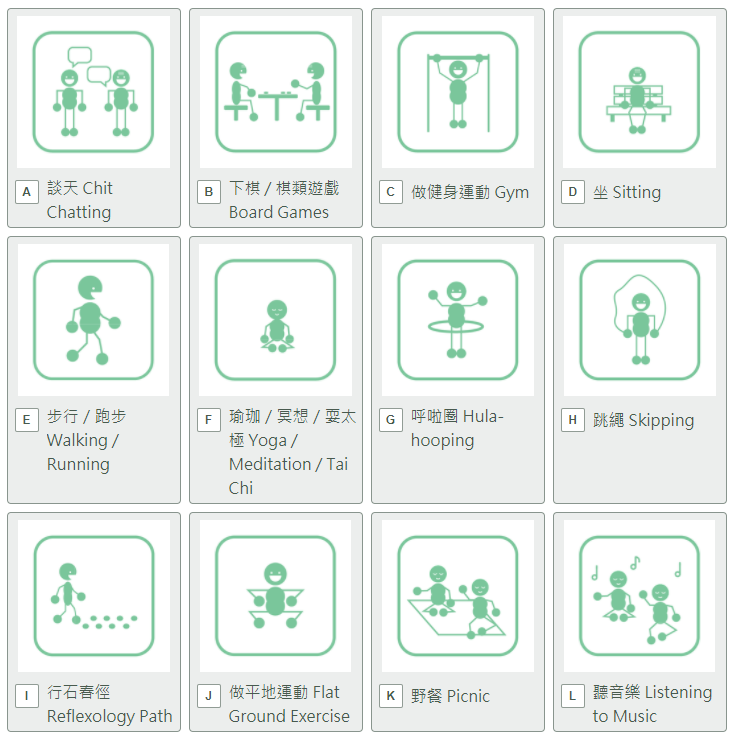 Online Survey
Period: 2/2/2021 - 16/3/2021
Target: General public of all ages The teams from Season 4 co-creation workshops have consolidated six Intergenerational Play Space design considerations.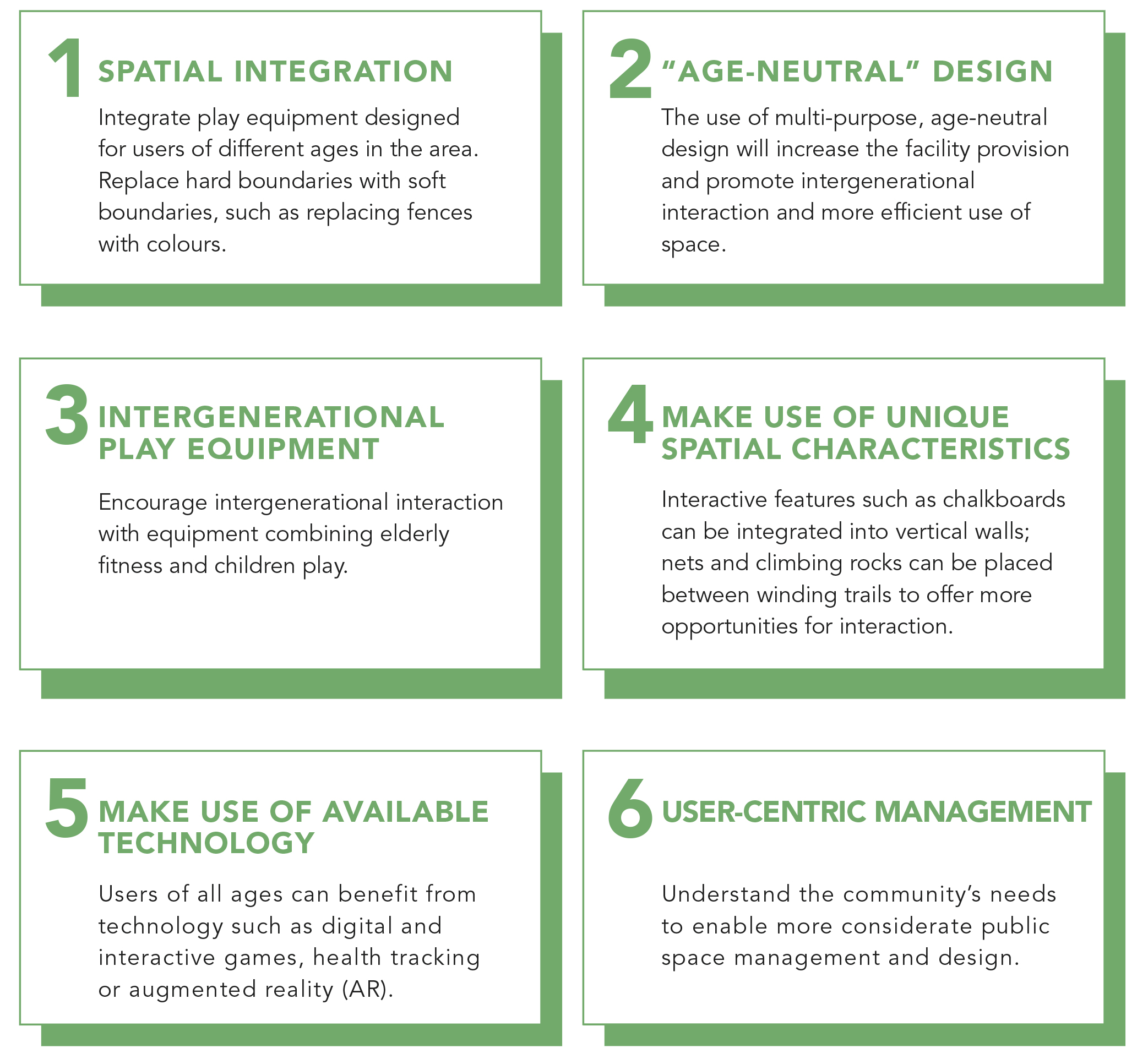 Participatory Co-design Process

Co-creation and Symposium

Kowloon Park Fitness Trail Info Pack

Kowloon Park Co-creation Team Observations

Co-creation Concept Design Proposal (11.5.2019 & 18.5.2019)
Symposium Keynote Address

From Children's Playground to Intergenerational Open Space
Mrs Doris Fok, Assistant Director (Leisure Services), Leisure and Cultural Services Department

Creating a Community that Promotes Ageing in Place and Intergenerational Harmony
Mr Wong Kit-loong, Chief Executive Officer and Executive Director, Hong Kong Housing Society

Play with No Frontiers
Mrs Sylvia Lam, JP Director of Architectural Services, Architectural Services Department
Click the PDF Icon on the bottom-right of each image to find out more about Intergenerational Play topics