A large number of silver-aged people reaching retirement age are still full of energy, hoping to continue to work or even start their own business. Senior entrepreneurship has become a trend in many countries. The senior entrepreneurship is not only creating and redefining the value system for the working seniors, but also evolving the perception of ageing. Through continuous learning and work, it helps seniors to establish their roles to gain independent and dignity at work.
The Season 8 Programme of "PolyU Jockey Club 'Operation SoInno'" consist of a series of activities under the theme of "Silver Age Startups", for encouraging senior citizens to use their accumulated skills, knowledge and experiences to kick-start their socially beneficial projects.
The four stages of the Programme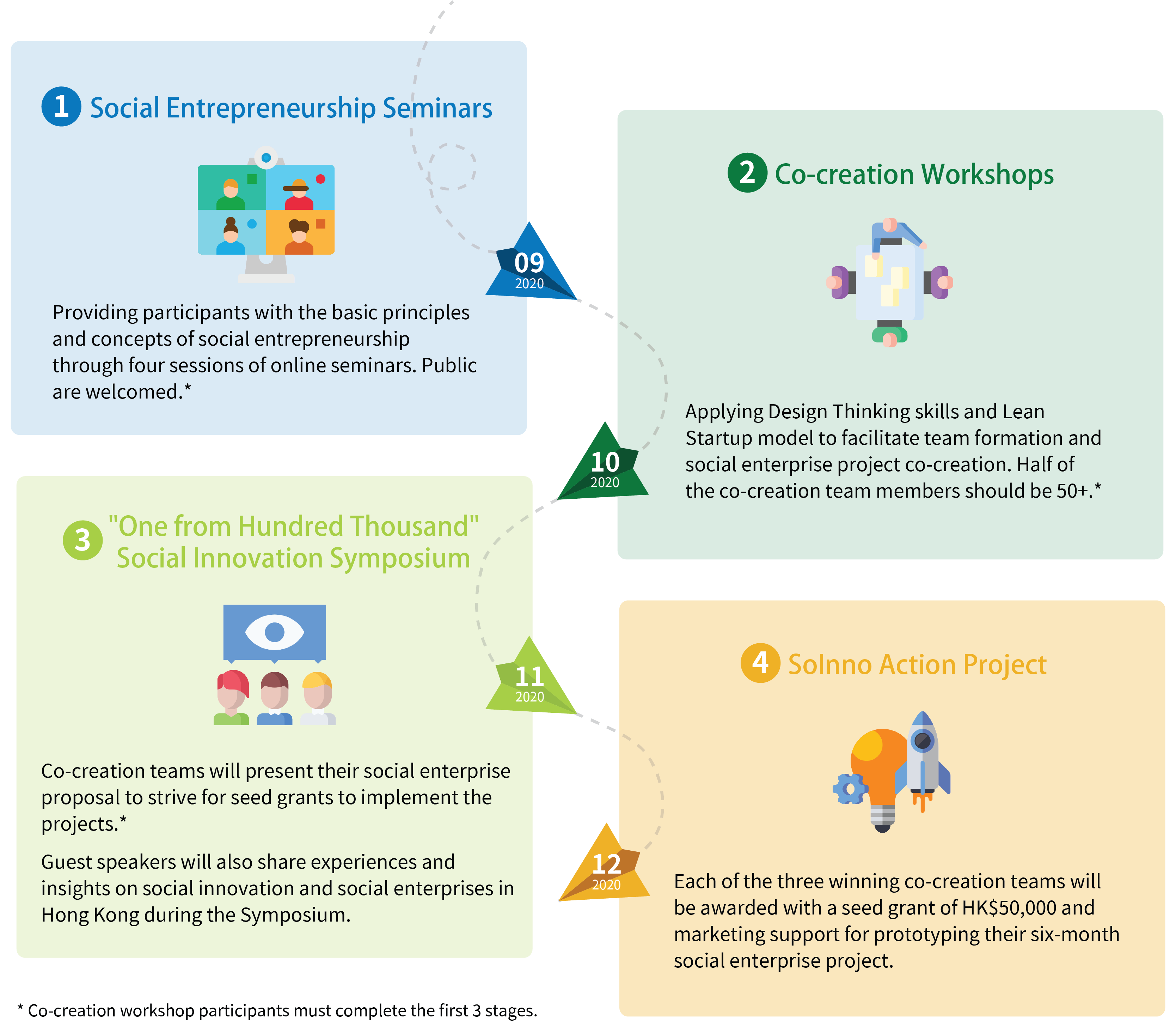 Programme Details
Stage 1: Social Entrepreneurship Seminars

Stage 2: Co-creation Workshop
Stage 3: Social Innovation Symposium
28 Nov 2020 | 9:30am - 1:30pm
🔹 Co-creation Team presentation
🔸 Guest Speakers sharing on Social Innovation and Social Enterprise
Venue: PolyU or online (TBC)
Stage 4: SoInno Action Project
Dec 2020 to Jun 2021
🔹 Winning co-creation teams to prototype their Social Enterprise project
If you are interested to
Know more about the experience of Social Entrepreneur and co-creation team

> Register for Social Innovation Sympoisum



Open for registration




Implement your own Social Enterprise Project



> Register for Social Entrepreneurship Seminars

and Co-creation Workshops*




Registration for seminars and co-creation workshop have been closed.

Know more about Social Enterprise Setup



> Register for

Social Entrepreneurship Seminars




Registration for seminars have been closed.
=======
Register Social Innovation Symposium:https://polyu.hk/DTqQr
=======
Email:This email address is being protected from spambots. You need JavaScript enabled to view it.
Tel:+852 2766 4924 / 3400 2829
Office Hour:10:00 – 18:00 (Mon to Fri)
*Notes on Registration for Co-creation Workshop:
Those who are enthusiastic about social entrepreneurship are welcome to register as an individual or as a team

All applicants will have to go through a telephone interview for selection

Co-creation participants must join the online seminars with 75% attendance rate. Participants failed to meet the requirement may get disqualified.

Each team should consist 4-5 team members, half or more of its members should be over 50 years old or above

Participants who register individually, if shortlisted, will be assigned to team up with other participants
Participants should be open-minded to learn and embrace new ideas, and be willing to team up with others
Participants must complete all activities

Deadline for registration is 21 Sep 2020. Seats are limited, early registration is strongly recommended.