This is the story of the senior entrepreneur, Mr William Wong, the Co-founder of "CoCreative Partners".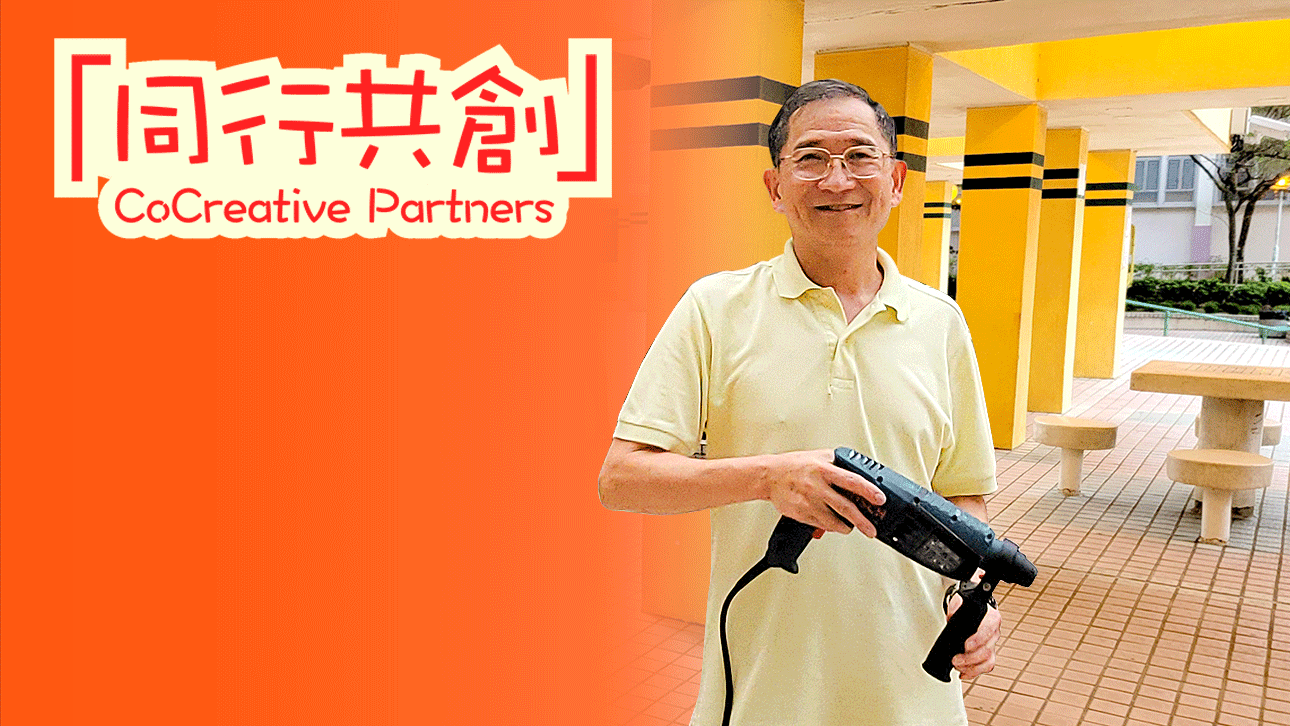 The Consensus of setting up entrepreneurship: Part-time participation; a balance between family life and work-life
Before his retirement, Mr. William Wong was a project manager. He had relevant experience and knowledge about community work and business operations by participating in community activities and running his own business. After retirement, he took part in the project "50 Startup" which was organized by the Christian Family Service Centre and funded by the Hong Kong Jockey Club Charities Trust. The project aims to provide an opportunity for the people who are above 50-years old to start a business to continue enriching their life and the society.
William said, this time it was different from the businesses he ran in the past. This project aims to encourage participating entrepreneurs to create social impacts while making money. He teamed up with seven other participants who had not met before. They drew up a plan called "Happy Walker", which proposed to accompany ("walk together" with) elderly people with symptoms of depression and to become their emotional support companions and help them to alleviate their boredom and loneliness.
Their project won a prize in the end and received a start-up funding of HK$60,000 and they founded and registered a company called "CoCreative Partners". Interestingly, the eight founders collaborate very well, and have been working together for more than two years now.
William believes that time management is especially important if one starts a business after retirement. They need to do well in the job, but also cannot lose the opportunity of enjoying retirement and leisure time, which means they should not devote all their time and energy onto this project like when they were young. Therefore, all the eight founders agreed unanimously that they could only work part-time. Each of them allocates 2 to 3 days a week to the project and spends the rest of the week taking care of their families or enjoying their retirement. They try to manage stress and maintain a balance between work and personal life by effective time management. This is also an essential consensus to uphold their teamwork.
Major issues related to daily operation: review market positioning and be resilient
At the beginning of the establishment of "Happy Walker", the founders encountered many difficulties. Service pricing was one of the examples. At first, William thought that the price of HK$100 per service was already low but later found out that no one was interested in using this service. They even asked their relatives and friends to come to participate in a trial, but the response was not that enthusiastic as well.
As a result, they started to review their market positioning and found out that people were reluctant to spend money on finding someone to accompany them to have a walk. They thus tried to promote their project to NGOs and tried to persuade them to engage in collaboration. At the beginning, they provided free trial to the NGOs, in order to collect after-service feedback and promote their service concepts. They tried to persuade NGOs to subsidize their members to participate in this service after the NGOs had a better understanding of the benefits of their service. The income is not significant, but the company is slowly building up its reputation. Up to now, they have organized more than 30 activities for more than 200 participants.
William said that being resilient is crucial in business operation. One needs to change strategies and directions when encountering difficulties. Even though he faced various challenges, William never thought of giving up because he believes that there are always ways to solve problems.
Bring out the strengths of team members
The service "Happy Walker" needs significant resources because it is a one-to-one service. In the process of costs assessment, the company noticed that insurance cost was another main expense apart from manpower. All the participants of "Happy Walker" need to be insured to reduce the risks for the volunteer companions. If they buy the insurance in the name of a private company, it will cost $6000 for just 200 participants, which is a big sum of money that is hard for a small enterprise to bear.
After communicating with numerous people, they realized that NGOs always buy insurance for the activities they organized. Furthermore, NGOs usually pay for the insurance at a favourable price because they are charities. Thus, they learned to ask the NGOs to undertake the cost of insurance when they cooperate.
In order to ensure the quality of service, "CoCreative Partners" provides a four-hour training program for their volunteers. It aims to emphasise the importance of the concept of caring; as well as the issues they need to pay attention to when they provide service to specific groups of participants. For example, topics that should be avoided; how to protect themselves; some principles like avoiding exchanging private phone numbers with participants. They organize sharing sessions for the volunteers to share and exchange their experience after each activity. William believes that this sharing session is particularly significant to ensure the quality of service, also to allow volunteers to learn more different experience from the sharing. In addition, they meet with the volunteers regularly and organize activities to maintain the relationship between the volunteers, so that they can build a strong sense of belonging.
William believes that the project's success is not only due to his past work experience and knowledge, but also because it provides an opportunity for all team members to bring out their strengths.
Impact of new entrepreneurship: continuing learning, maintaining health
William made it clear that the purpose of establishing "CoCreative Partners" was not for money-making or business performance, but the great satisfaction he gains from engaging in an industry he likes. The process of fulfilling social responsibility is an important part of his life. The interaction with different service users allows him to gain new knowledge as well, such as learning mental health first aid skills to deal with challenging cases and emergencies. Moreover, he begins to understand the operation of social enterprises, how to look for funding and how to apply to become a charity organization, and more. The creation of this entrepreneurship pushes him to continue to learn and think. He believes that it helps him to keep himself physically and mentally healthy, instead of getting deterioration because of nothing to do after retirement.
The Way Forward
Due to the Covid-19 pandemic, the companion service of "Happy Walker" needs to be suspended temporarily. During this period, William actively explores new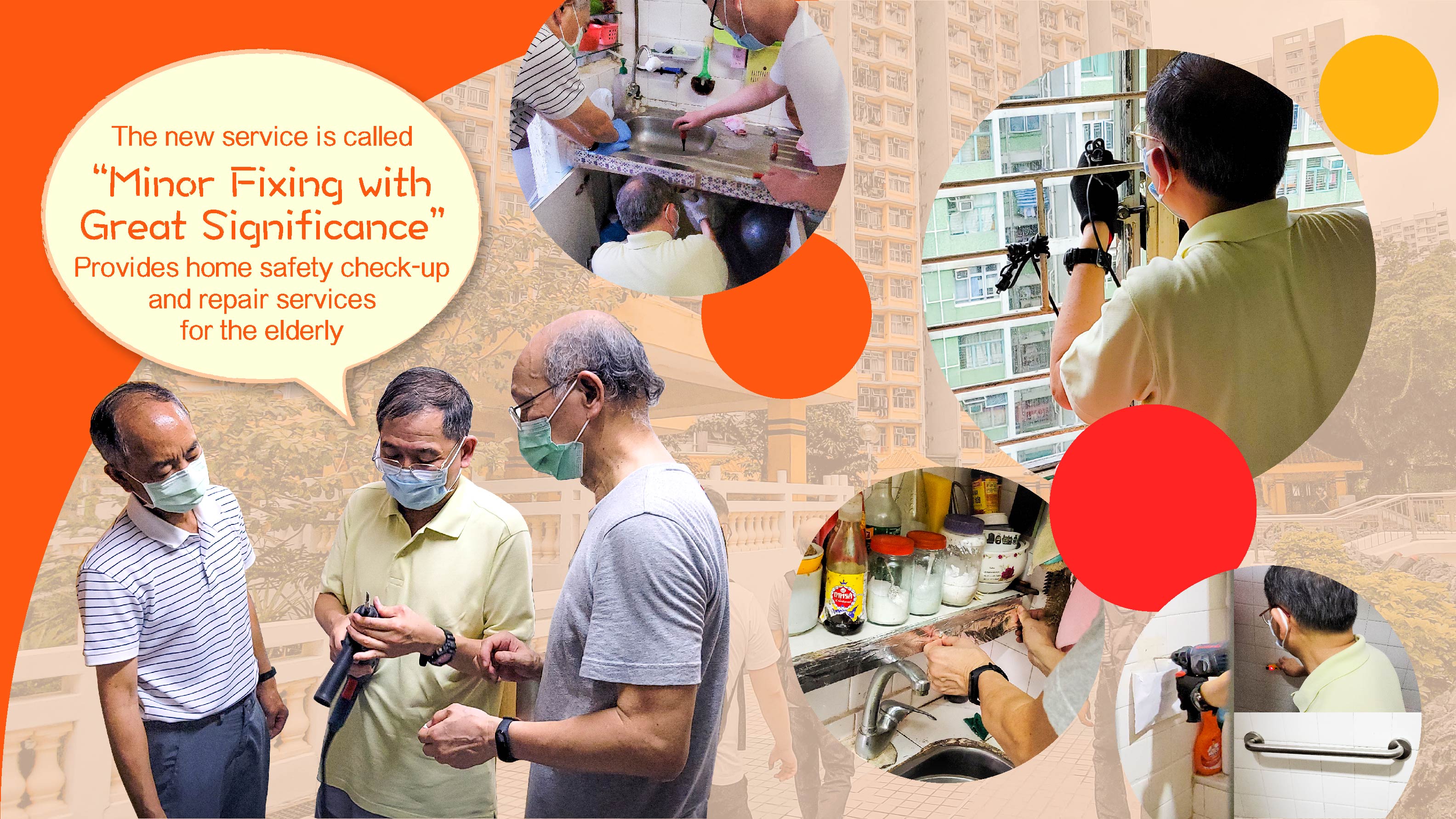 The new service is called "Minor fixing with great significance", which provides home safety check-up and repair services for the elderly. Through the home visits, their team also shows their care for the elderly. Since the beginning of the pandemic, they have cooperated with many NGOs. They now send at least two teams to carry out home repairs for the elderly in need every week. Repair items include sinks, window handles, installation of safety handrails, lamps and light bulbs, etc. The project is now running smoothly. In addition to helping the elderly to solve minor household problems, they also trained several home repair handymen, all of whom are enthusiastic retirees.
Advice for retirees who are interested in setting up a business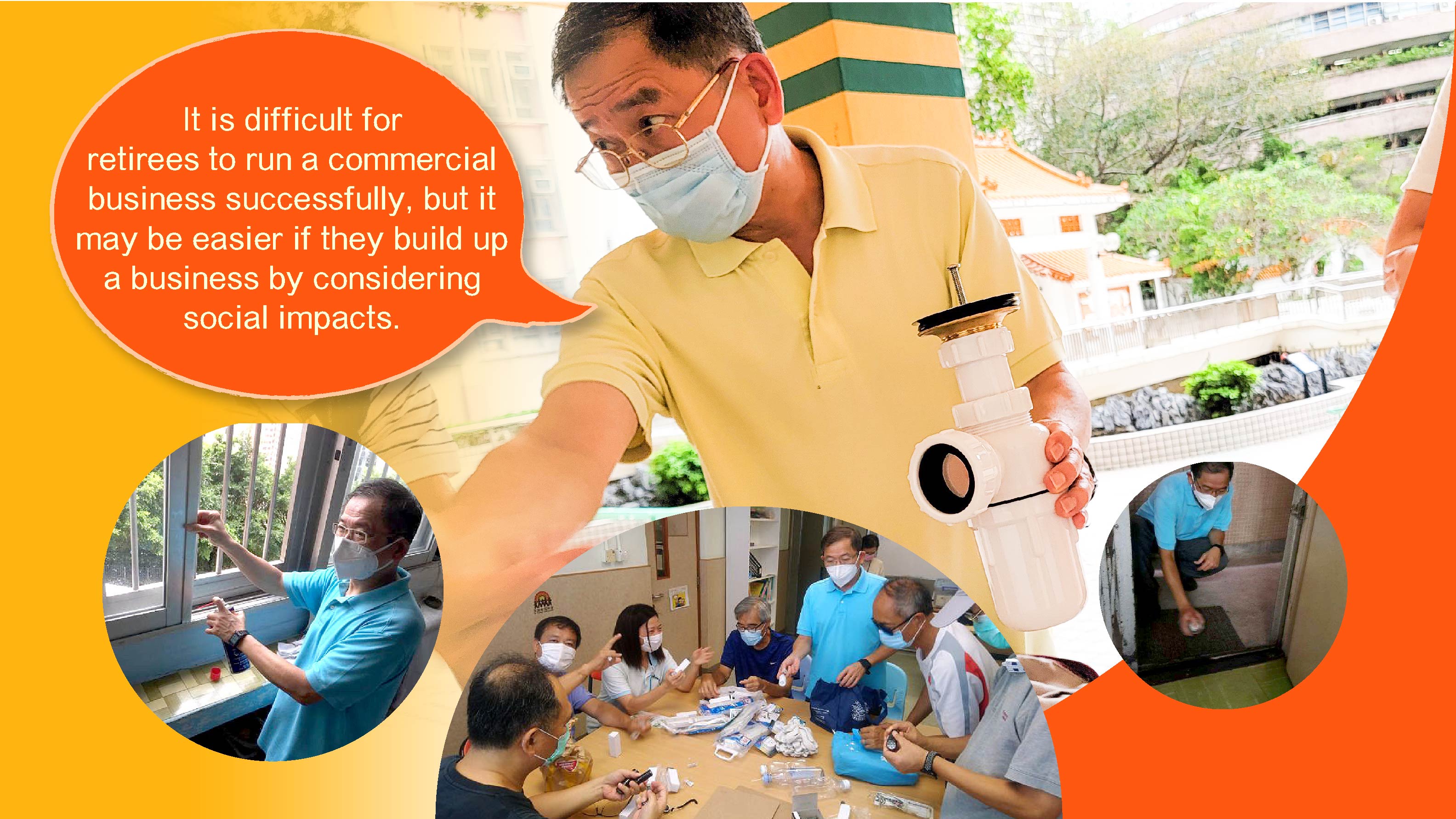 William pointed out that more and more elderly people choose to start a business nowadays. This is mainly because many older management staff are forced to retire since most industries tend to employ younger staff to save resources and costs. William said, it is difficult for retirees to run a commercial business successfully, but it may be easier if they build up a business by considering social impacts. Besides, he reminded people who are thinking about starting a business with friends that their friendship would be easily challenged.
Website
https://www.happywalkerhk.com/tc/
Chinese Text: Rena Lau
English Translation: Sui Chu Wu
Photography and Design: Jenny Ma