REGISTER NOW | Competition Details | About the Site | Design Considerations | Resources Download | FAQ | Supporting Organisations
Background & Objectives
The Intergenerational Play Space Design Competition | HKHS Prosperous Garden is a design competition organised by the Jockey Club Design Institute for Social Innovation (JCDISI) together with the Hong Kong Housing Society (HKHS) as "Action Project Co-Organiser".

The Competition is an Action Project stemmed from JCDISI's "Intergenerational Play Space" co-creation workshops and symposium conducted in 2019 under PolyU Jockey Club "Operation SoInno". This is a Two-Stage competition for University and Professional Categories. Teams of professionals and university students are invited to develop an innovative "Intergenerational Play Space" design proposal through participatory co-design for Prosperous Garden in Yau Ma Tei, Hong Kong.

DOWNLOAD THE COMPETITION BRIEF
Objectives
The objectives for the design of the Prosperous Garden Public Space are as follows:
Provide an overall park environment that would increase elderly users confidence and incentivise them to take more outdoor physical exercise
Encourage young and old to use the park and its play equipment together for more proactive intergenerational interactions and play
Reinforce the positive behaviour of the elderly users by showing them evidence of the benefits to their well-being achieved by their utilisation of the Intergenerational Play Space
Strengthen community social cohesion and residents' sense of belonging through increased interaction
Serve as a prototype that would facilitate the transformation and creation of more intergenerational play spaces in Hong Kong
Who Should Enter

The competition is open to all students and professionals in Hong Kong and outside of Hong Kong. Entrants are strongly encouraged to include team members from two or more of the following disciplines or expertise:
Spatial design
Product and industrial design
Play and/or fitness equipment design and safety assessment
Smart ageing and assistive technology
Smart city and IoT

Rehabilitation science
Health and well-being management
Community engagement
Community building and placemaking
Venue management
For professional categories, one of the team members must be a registered member of the following organisations or other similar qualified professional bodies outside of Hong Kong:
The Hong Kong Institute of Architects (HKIA)
The Hong Kong Institution of Engineers (HKIE)
The Hong Kong Institute of Housing (HKIH)
The Hong Kong Institute of Landscape Architects (HKILA)

The Hong Kong Institute of Planners (HKIP)
The Hong Kong Institution of Surveyors (HKIS)
Hong Kong Institute of Urban Design (HKIUD)
Hong Kong Occupational Therapy Association (HKOTA)
Hong Kong Physiotherapy association (HKPA)
* Individuals without a team can join our LinkedIn Networking & Matchmaking Group CLICK HERE
Timeline
Stage 1
30th May: Briefing session RECAP NOW!
30th June: Deadline for group registration and portfolio submission SIGN UP NOW!
Stage 2
8th August: Engagement workshop
9th October: Deadline of Design Proposal submission
19-26th October: Public voting period
14th November: Award Ceremony
Prizes & Awards
Sponsored by Hong Kong Housing Society
The winning teams and shortlisted team will be awarded the following cash prizes and certificates with merits respectively. There will also be a "My Play, My Say" Award that will be awarded a certificate of merit.
Professional Category
1st - $30,000
2nd - $20,000
3rd - $10,000

Student Category
1st - $10,000
2nd - $5,000
3rd - $3,000
Competition Jury Panel
Stage 1
Stage 2
Stage 1: Group Registration & Portfolio Submission
LinkedIn Networking & Matchmaking Group
CLICK HERE
Prosperous Garden, Prosperous Garden, 3 Public Square Street, Yau Ma Tei, Kowloon

Prosperous Garden is located at the original site of the Six Streets in Yau Ma Tei. 112 early post-war buildings were claimed by the Government in 1975 and handed over to HKHS under a non-renewable lease for redevelopment. To date, Prosperous Garden provides 157 Elderly Persons' Flats - about 10% of all the residential units in the site.

HKHS is committed to improving the tenants' quality of life complementary to property management service, thus launched the Ageing-in-Place (AIP) Scheme in 2012, which is now extended to all of its 20 rental estates, including Prosperous Garden. Through mobilising community participation, partnership with the government departments, welfare organisations, healthcare service providers as well as academics, a one-stop service and concern network for the elderly residents is established to fulfill their needs in housing, healthcare and social support, so as to help them age in place.

The Prosperous Garden Public Space is a central point and gathering place for all residents regardless of age. It is therefore important to increase the functionality of the public space and complement the AIP Scheme by upgrading the outdoor play facilities to encourage intergenerational play.
The teams from Season 4 co-creation workshops have consolidated six Intergenerational Play Space design considerations.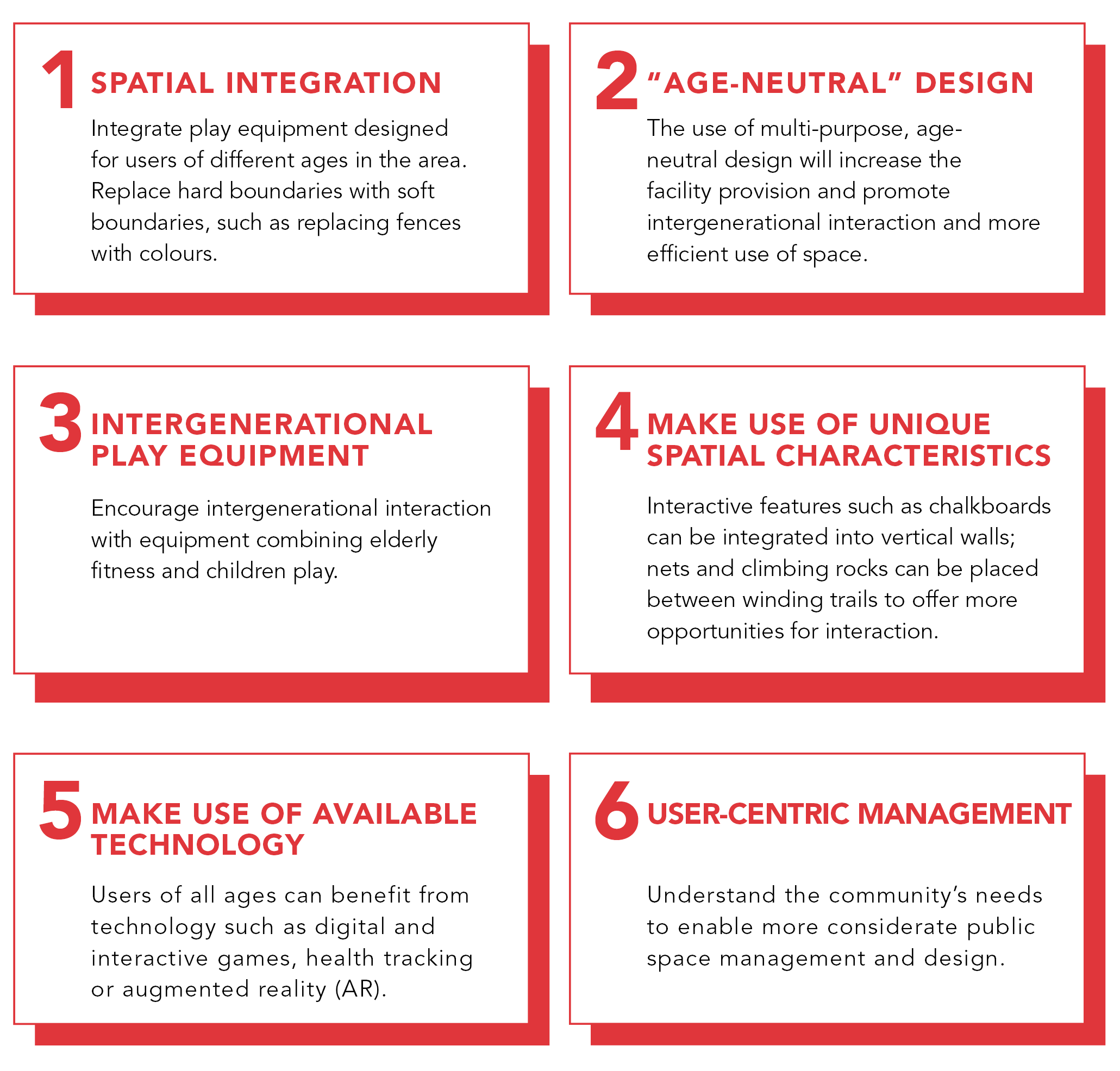 Eligibility and Team Composition
Project Background
Competition Mechanism
Submissions
Do not see your question? Email This email address is being protected from spambots. You need JavaScript enabled to view it. to let us know!
For further details of the PolyU Jockey Club "Operation SoInno", please visit here.
For other inquiries, please email This email address is being protected from spambots. You need JavaScript enabled to view it. or contact us via +852 2803 0991 (Ms. Yuen).